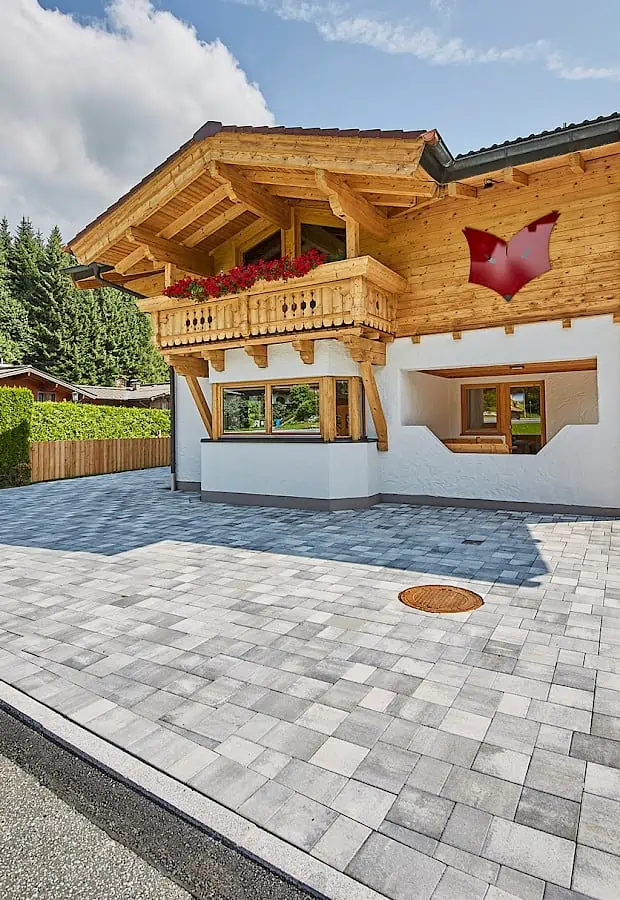 Sooo much space!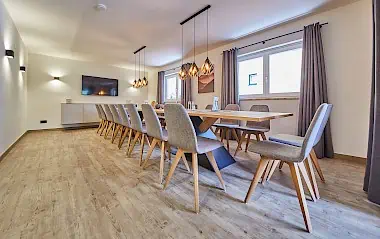 The holiday home base for large packs
The chalet "das fuchshaus" in Viehhofen is simply perfect for families and large packs for whom a holiday home is too minimalistic or who do not want to share their holiday home base with others. You immediately know that "das fuchshaus" is part of "der fuchs und die gang": Plenty of space for a lot more PEOPLE and a brilliant location if you - like the fox - can't decide whether you'd rather be in Saalbach Hinterglemm or in Zell am See to spend your well-deserved TIME-OUT. So if you have a lot of buddies, besties or friends, you've come to the right place in the "das fuchshaus" chalet!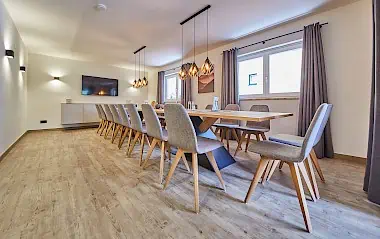 Now you might think that Viehhofen is a lonely place where fox and rabbit say "good night". MISTAKE, BIG MISTAKE! Viehhofen is the place to be between Saalbach Hinterglemm and Zell am See! Only a few kilometers separate you from the 'Home of Lässig', a few more kilometers and you are in Zell am See. Environmentally conscious foxes take the bus for this. Conveniently the next bus stop

is only a few steps away from the chalet "das fuchshaus". Your cars are welcome to chill in the parking lot while you explore the 'Home of Lässig' or splash about in the lake Zeller See.
It's just not easy to decide daily between Saalbach Hinterglemm and Zell am See on holiday. Option 3: chilling in the chalet "das fuchshaus" :p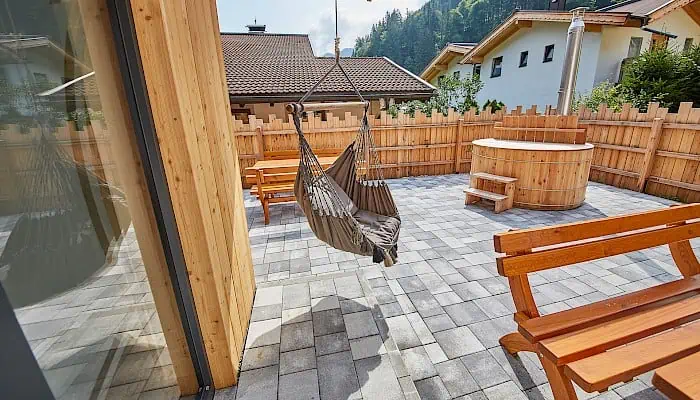 Hello summer, here we are!

Well, what do you want to do now? Up the mountain? Into the lake? Snuggle up in "das fuchshaus" because you don't know what you want? We cannot make this decision for you. The main fact is that summer in the Salzburg area simply has a lot to offer: hiking, (e-)biking, barbecuing & chilling in the garden, splashing in the water, staring at the landscape and building castles in the air, organizing coffee parties, ... your options are nearly unlimited! If you are looking for even more inspiration, just click on MORE in the next line!

From snowflakes & ski skirts ...

No, we're not rewriting this well known German winter song, at least not here and now. Winter in the Salzburg area is simply casual, sometimes a bit cold, but hey, it's winter, it's supposed to be cold :) Anyway, in winter the chalet "das fuchshaus" is the perfect home base for ski freaks, snowboarders, cross-country skiers, winter hikers, skid riders, snowshoe route finders, frostbites, après-skiers and simply everyone who has fun in the snow! The best of it: With the SKI ALPIN CARD you are spoiled for choice, whether you prefer to go to the 'Home of Lässig' in Saalbach Hinterglemm, to the Schmittenhöhe in Zell am See or to the Kitzsteinhorn / Maiskogel glacier ski area. Not enough?? Then click on MORE below and you will find more!
Chill and relax
Nobody can endure so much action, not even if your name is NOBODY. So, cool down, chill out and relax - "das fuchshaus" is made for it. Hot bath barrel or whirlpool in the garden, grill station for a nice BBQ, sauna in the house, mega TV room with a fat flat screen in the basement, free WiFi, cable TV in every room, bread service and much much more! Actually, you would need at least a week to test EVERYTHING in the chalet "das fuchshaus" ...